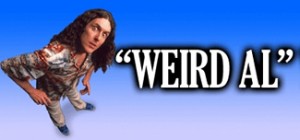 Our son loves "Weird Al" Yankovic's songs and videos. He memorizes them and performs them for us and our friends. They are always funny … that is, if you are a bit of an intellectual and don't mind the derision of potentially sacred things. Al's latest hit, according to our son, is a play on grammar called Word Crimes.
If you haven't seen and heard it, click here: Word Crimes
At the time I wrote this blog, there were more than 16 million views of this video. Think about that. There is a lot to be learned here about what people are paying attention to. I guess the real question is whether we learn from these. As I watched this, I realized how many of these mistakes are made. But, really, why do we watch? What are the outcomes and value for doing so?
Do we learn? Are we getting better? Or, are we simply amused by our fallibilities? I am not sure.
I also like the one Mission Statements. It sounds way too close to what I hear today.
Do we have a sense of humor when things cut this close to home?
I guess my favorite has always been Dilbert, written and illustrated by Scott Adams. That inspired me to write tongue-in- cheek pieces like this blog. For a while, we created illustrated cartoons for our Apogee newsletter. I penned it under the name "Gilbert," harkening back to Adam's brilliant work. It was always the most viewed section of our newsletter.
So, let me ask you … are we learning from anything from all this or are we simply being amused?
F

inally, Susan just walked in and told me that Dragon Con was this weekend. Stephen loves that. So, she saw there was a pocket guide just covering the highlights written in 8 point type to keep it compact. It is 127 pages long.
I am sure some don't think this is very funny … or interesting … or relevant. Yep, but this is the stuff that seems to interest way more people than our stuff. That is not funny, but, terribly interesting to me, and I believe it is relevant to all of you to ponder.
I'd be interested to hear your thoughts.