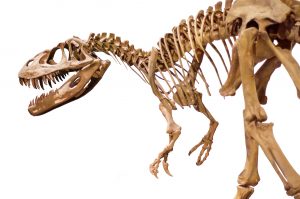 The Bone War was also known as the Great Dinosaur Rush.  It was a period of intense and ruthlessly competitive fossil hunting and discovery during the late 1800's.
Evidently it was driven by a heated rivalry between Edward Cope (Academy of Natural Sciences of Philadelphia) and Othniel Marsh (Peabody Museum of Natural History at Yale). From 1877 to 1892, both paleontologists used their wealth and influence to finance their own expeditions and to procure services and dinosaur bones from fossil hunters.
Each of these two paleontologists used underhanded methods to try to outdo the other in the field, resorting to bribery, theft, and the destruction of bones. Each scientist also sought to ruin his rival's reputation and cut off his funding, using attacks in scientific publications. By the end of the Bone Wars, both men had exhausted their funds in the pursuit of paleontological supremacy.
Can you see the parallels to the scientific communities of today that dominate the news media?  We should all be "following the money" to see why what they are saying is getting the headlines.
Does homework cause cancer?  Watch the evening news … and of course, you have to wait to the end to find out.  Spoiler alert: No, homework doesn't cause cancer.
Is the climate changing?  Of course it is … it always has been. Is the sea level changing?  Yes.  The question is, what role man plays in it.
To put climate and sea-level change in perspective, consider the history of the US shoreline.  At one point it was offshore to the edge of the continental shelf … about 400 feet lower than the current shoreline.  At another point, Macon Georgia was a coastal city.  Fossil seashells tell the story at Macon.  Might it one day be discovered we are back in a Bone War where there are no winners.