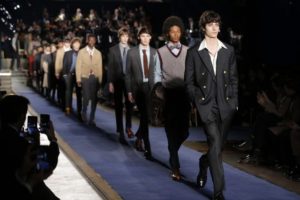 I hope you would agree we have seen a huge transition over the last 50 years in clothing style. It was once the required battle dress for up and coming business executives. I remember one instance like it was yesterday when I attended a meeting with my client wearing a camel hair sports jacket, beautiful tie, dress slacks, and appropriate wingtip shoes. You would have thought I showed up in my gym shorts and sneakers… the sneering and disapproval was palpable.
While it may still be the appropriate attire for near formal situations like funerals, I seldom see suits in business settings. Oh sure, we still see world leaders in suits if they dress in European or American styles, and our politicians still seem adorned in this fashion statement. But, how long will it be that we deem business casual the new normal? You no doubt have noticed that we have gradually and persistently moved towards a new style of business leadership attire: personified by Steve Jobs, Mark Zuckerberg, and others. Yep, turtlenecks and T-shirts have replaced the jacket and tie. 
Well, another shoe dropped this week that reflects this. Brooks Brothers filed for bankruptcy protection: Read the USA Today article.
Brooks Brothers survived the Civil War, the Great Depression, World War II, and the Great Recession, but now joins a rapidly growing list of retailers that have stumbled into bankruptcy in the midst of the wreckage of COVID-19, which temporarily shuttered stores due to health concerns. Others recently filing for bankruptcy have included J.C. Penney, Neiman Marcus, and J. Crew. No other suit maker has the legacy and brand recognition, however. They are the Harley Davidson of motorcycles within the male executive wardrobe providers. 
There is a lot to be learned from all this. But we probably will not.