I truly wonder why IQs seem to have dropped among the really smart people when things like those shown in the press release below can happen.
I am a fan of fuel cells for what they can do, but I am always struck by the lack of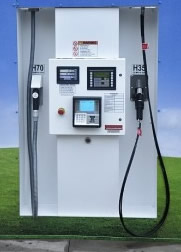 discipline in considering where the source of hydrogen is going to come from and what the full stoichiometric balance will look like.
The raw fuel supply for these hydrogen fueling stations is natural gas.  Let's call that essentially methane, or CH4.  If you split off the hydrogen, where did the carbon go?  Did it fall to the ground as a lump of pure carbon?  No, it normally forms Carbon Dioxide so where did that go?  How come no one ever talks about that?
Then, let's get back to the reason we all talk about hydrogen in the first place.  We want to use it in fuel cells.  Well, if we have hydrogen fuel, we can run our existing cars on that and produce only water vapor out the tail pipe with only a small carburation change once we figure out how to add the tanks of it to our cars.
Can you see the farce here?  Why aren't the smart people on the planet calling this the farce that it is??
Energy Commission will fund new hydrogen fueling stations in California
May 2 – McClatchy-Tribune Regional News – Mark Glover The Sacramento Bee
http://www.sacbee.com/2014/05/02/6373512/energy-commission-will-fund-new.html
The Sacramento-based California Energy Commission says it will invest $46.6 million to accelerate the development of publicly accessible hydrogen fueling stations