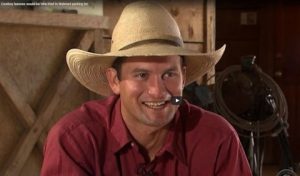 How many times do we stand by, watching what is going on, saying to ourselves: "I am not going to get involved; let nature run its course."  Several of my friends have gotten in trouble trying to help people in distress or experienced "collateral damage" or even death trying to help someone.
Watch the video that aired recently, it is encouraging. 
Sure, it's a story about a real cowboy detaining a would be thief.  The story ends well.  But, what if he had broken the thief's leg in the process?  What if the thief sued him for some God-forsaken reason?
The story is a good reminder of the gentle kindness of so many, and the special gift that just happened to find a just cause for use in this woman's hour of need.
I personally appreciate his answer to why he did it: "It was just the right thing to do."