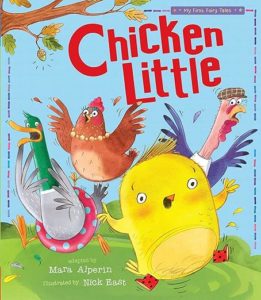 We all know the story of Chicken Little  Maybe you remember the original name: "Henny Penny" and sometimes as "Chicken Licken."  It is a European folk tale about a chicken who believes that the world is coming to an end. The phrase "The sky is falling!" is used a lot in the hysterical or mistaken belief that disaster is imminent.
I am sure you have noticed the climate alarmism escalation over the past few years. The result has been an enormous expenditure of our money under the assumption it was going to keep us away from certain disaster.  And, since all this money has done virtually nothing to improve the situation, the chickens have come home to roost … pun intended.
Take a look at this recent Pew Research.  Notice the continued erosion of public trust and confidence in the alarmists.  What does this tell us about our future?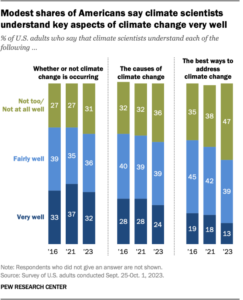 For one thing, we are losing faith in their advice and recommendations.  A second less obvious characteristic is that we are increasingly less likely to believe the next things they will tell us.
I used to call this carpal tunnel marketing syndrome. Repetitive stress and irritation of small passages in our bones through which tendons and nerves exist become inflamed and stop working well.  In like manner, the repeated alarmist calls are narrowing the communication channels so necessary for public service communications.
Said very simply, we are increasingly tuning them out.  So … all you alarmists … you should be taking note.  We are losing our faith in you.