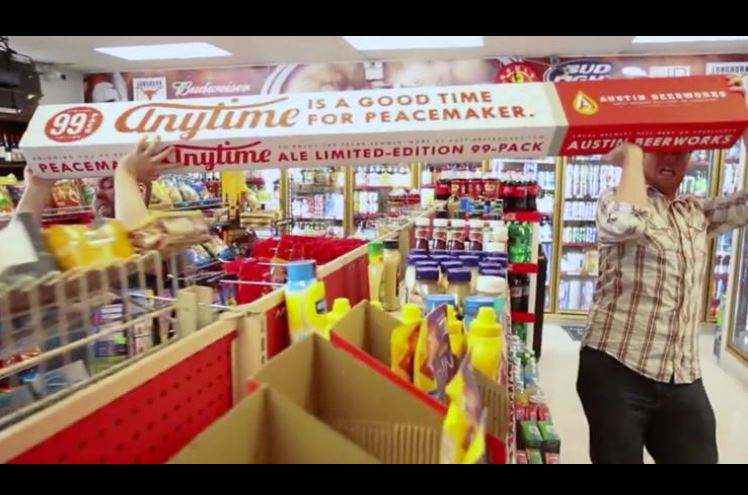 I remember singing this silly song on long road trips with friends just to make the trip pass more quickly. Of course, you may also remember the "I can see" types of games we played to keep the kids from asking "are we there yet?"
Well, now you can go to the market and buy 99 cans of beer in one box!  Seems a bit silly to me, but the obvious connection has made it a bit of a party sensation.
Witness the following article:
Austin Beerworks releasing 99-packs of Peacemaker Anytime Ale.   Would you spend $99.99 for a 99-pack of Austin Beerworks Peacemaker Anytime Ale? You'll also probably need a couple of buddies to help you lug the thing through the store. And some room in your kitchen for all that beer. But you can do all that, right?
That's what the brewery is counting on as they re-launch the name of their pale ale, the very first beer Austin Beerworks ever made. It's now Peacemaker Anytime Ale — and 20 99-packs of it are releasing in stores tomorrow. Lest you try to make plans ahead of time to get your hands on one (and boy, you'll need both hands) the brewers at Austin Beerworks are mum about which stores; they'll reveal them via social media. All will be in Austin.
To be clear, the gimmick is as much a light-hearted joke as it is not a hoax (yes, it's real, a press release kept emphasizing). Austin Beerworks co-founder Michael Graham said in the release that when they were brainstorming with brand design studio Helms Workshop about how best to launch the brewery's first official advertising campaign, the idea of a 99-pack was just a funny joke — until it wasn't. The Helms team had been listing all the situations during which people want to be drinking Peacemaker ("in line for the best BBQ in the country," "as a pre-workout," "when the fish just aren't biting" and the like) and realized that since there were so many, wouldn't it be beneficial for people to have that many of the beers, too?
"This inspired us to create the world's first and only 99-pack," Graham said. "What started out as a joke became very real when we realized how much people love the idea of 99 beers for $99.99."
What a unique idea: listening to customers and then packaging that in a way that makes them smile … and buy from you.  Maybe something to learn here.  At a minimum, it should be fun to watch how this goes.