Or turn them off for you … or blink in any color you want for you!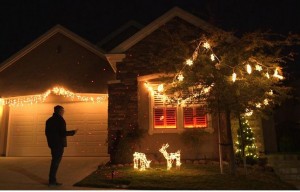 The title of this blog comes from Thomas Edward "Tom" Bodett, an American author, voice actor, and radio host. Since 1986, he has been the spokesman for the hotel chain Motel 6, whose commercials end with the phrase, "I'm Tom Bodett for Motel 6, and we'll leave the light on for you."  Needless to say, he is a favorite among many electric utilities for that vote of support.
Well, things are changing dramatically this year.  Check out the way technology has changed the age old Christmas lights!
Read the WSJ article here.
What a world we live in.  Think about how all this is changing expectations!  Sure, there are a lot of people who are not tech junkies.  But, the world all around us is in a mad dash to become more personal and more controllable.
These same customers do not expect to pay less for this capability.  They expect to pay a premium for convenience.
Perhaps it is high time that we open a new conversation within our staff meetings and even our regulatory proceedings.  Might we not want to begin the migration towards premium products and services that our customers will gladly pay higher prices for?

I think the timing is perfect for this and this kind of thinking is certain to be considered "tidings of joy" to your senior leadership teams.