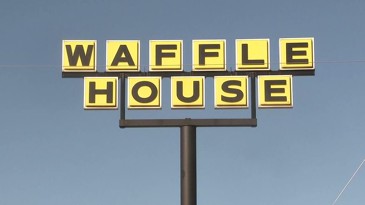 I don't know about you, but it seems to me that there are three things that become really challenging in our lives as we get older.  The first is that we lose our memory.  I can't remember the other two.
The internet seems awash in things to make our lives simple.  Using everyday household items in ways we never thought about.  They are called "Hacks" because someone unlocked a now obvious secret to life through creative uses of things.  Some are downright dangerous and could qualify for the Darwin Awards.
When I moved to the South about 35 years ago I was told about all the ways food was served at Waffle House and taken to one as a part of my indoctrination.  I have blogged about the wonderful employee culture at these places.
It is amazing all the ways people order their breakfast.  How can the cook remember all the specifics?  They have an official hack posted in the restaurant and the short order cooks memorize it.  They need to. I have seen the cheat sheet on the wall near the grill.   Here is a picture of it someone took.
I love these breakfast places compared to regular sit down restaurants.  There is something incredibly social about being right in the midst and across from all the action.  So, one morning I got there very late and decided to order lunch: a bacon, lettuce and tomato sandwich on plain white bread … not toasted.
The waitress took my order and blurted: One BLTNT … and I thought … hmmm … clever shorthand.
Unfortunately, the tomato was so fresh and juicy it leaked through the bottom slice of bread so when I got it I could not get it off the plate.  I chirped:  SOB and she looked at me … and then I explained:  Soggy On the Bottom.
In her heavy southern accent and with her shoulders thrown back in utter disgust she says: Well S .. H .. I .. T!
I looked at her quizzingly … so she explains: "Should Have had It Toasted!"
Guilty.