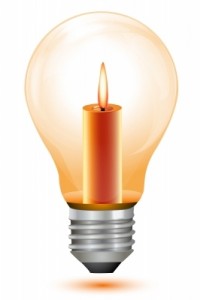 You know you live in a "Big Bang Theory" sort of family when you have discussions like the following. Susan's makeup mirror light burned out so we needed to replace it. We took the lamp out of the fixture and went to Lowe's trying to find a replacement.
As we headed into the store, I recounted to our son Stephen that we needed to replace the lamp and that common language would call that a light bulb. However, as my lovely wife has taught me, it is not a bulb, it is a lamp. The device that holds the lamp is a fixture and that may be a part of a larger display device … but the thing that had burned out is a lamp.
Well, go ahead and try to find a replacement lamp at Lowe's and you are going to be directed to the place they sell fixtures …
All this prompted me to check on the famous biblical phrase from Psalm 119 in the Old Testament which seems to also differentiate between the word lamp and light. So, I went back to the Hebrew and here is what I found. The Hebrew does indeed capture the difference. The lamp is the device (e.g., a candle) while the result of the device working is to provide light on the path so you can see.
So, what is the point here? Psalm 119 is all about success in life and it is full of beautiful thoughts. Much of the Hebrew is poetic and loses a lot when translated into English, no less the King James Version that people quote. We don't speak that form of English anywhere any longer … thank God!
But, we do talk technical talk to each other and the average customer does not understand much of what we are saying. They don't know what a kWh is nor do they frankly care very much either. Edison felt so strongly about this that he insisted the industry would have to sell light … the result that customers wanted. Maybe we are too smart for our own good. It really isn't dumbing things down. Rather, it is helping customers understand what they should do and where they can buy things that work and help.
This of course can create funny misunderstandings. I have been told of a church pastor contacting a utility to get a temporary electric service for their new church building. The utility asked for the service plan and the pastor said there would be bible study at 10 and worship at 11.
This also reminds me of a prior life when I set care standards in hospitals. We had to write out instructions for housekeeping staff about cleanliness standards. Removing feces might be technically correct, but it simply would not cut the mustard in practice. You had to call a spade a spade, even though it might sound a bit crude.
It does make me cringe to talk about buying light bulbs … after all … I live with someone who knows the difference. But, when in Rome …