Now I have to admit that the first time I saw this in the trade press I thought something completely different than what it means.  Being a mathematician, I thought this had to do with conformance to a true circle … which would make an ellipse close in some cases, but define how close it was for sure.
Nope, we now have a new word in today's energy lexicon to define what you and I probably referred to yesterday as sustainability.  Then, when you ask the open-ended question to understand what might be different, you find eloquence in the response.  For example, read this to see just how wrong we both would have been.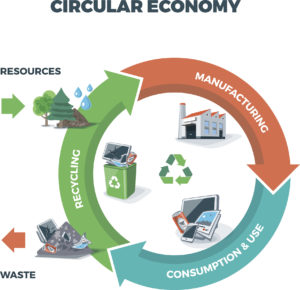 After reading this I might have just surmised that we just have one more eloquently unimportant differentiator that confuses the core issue of sustainability.  Perhaps, until I saw a request for papers and presentations from one of our more traditional energy publishers Greenbiz Media.  Please follow this link and look at the topics they are seeking:
And, if you don't click the link, here are some key topics they want presented:
Circular Economy: Design and business strategy that create zero-waste products, processes, and value chains that are restorative and regenerative for both people and the planet.
Finance & ESG: How capital markets and mainstream investors are prioritizing sustainability, along with the growing array of sustainability-linked financial products.
Net Zero: Technologies, strategies, and business models to achieve ambitious reduction targets for energy, water, carbon, and waste.
Resilient Supply Chains: Responsibly and transparently managing sourcing, manufacturing, and labor practices.
Social Justice: How companies are responding to growing calls to address racial, criminal, climate, and economic justice, both within companies and society at large.
I was glad they want to also talk about how you finance all this because paying for it is not going to be that easy.  Of course, as an engineer, I applaud the holistic point of view embodied in all this, but I guess I am just reacting to what I heard from Greta about global warming and now others protesting and creating social unrest in the streets.
Are we in the midst of an environmental and energy revolution?  Some are applauding those words.
Huh … I thought we were doing pretty well without all this hysteria.  Maybe something good will come from it.  I certainly hope so.