"Pain heals. Chicks dig scars. Glory…lasts forever."
-Shane Falco, Quarterback in the movie
The Replacements
I hope you have seen the movie at least once. It has been described as the greatest football movie of all time. Thanks to a football strike by dozens of pro players, Gene Hackman who plays the character Coach Jimmy McGinty assembles a rag-tag group of semi-pro and amateur football players to keep the team's standings intact 'till the end of the season… they turn out to be even more awesome than the actual professional team they're replacing.
If you have seen it, you may remember that Shane prefaces this quote above with this: "I wish I could say something classy and inspirational, but that just wouldn't be our style." He then follows that quote on the next and final play of the game with "It's been an honor sharing the field of battle with you." As I close out my career in the energy space, this sums up my feelings well. It has been an honor … my distinct honor. Many of you are my closest friends and part of my extended family.
After they go on and win the game on the next play, Hackman says in the final voiceover: "When the replacement players for the Washington Sentinels left the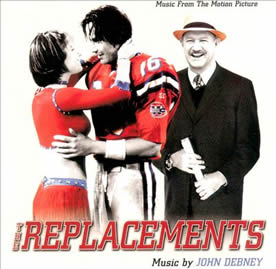 stadium that day, there was no ticker tape parade, no endorsement deals for sneakers or soda pop, or breakfast cereal. Just a locker to be cleaned out, and a ride home to catch. But what they didn't know, was that their lives had been changed forever because they had been part of something great. And greatness, no matter how brief, stays with a man. Every athlete dreams of a second chance, these men lived it."
I feel that way. I have been changed forever having been a part of something great. I entered the industry as a kind of Red Adair, putting out the flames of competitive battles the electric utilities were having with cogenerators and the like. It was a wild ride in those days. Thank you all for that. In many ways I was the character Danny in the movie. I didn't know what to be afraid of. I tackled it all.
In the process I made many friends … and probably a few enemies along the way. Sorry about that. It is just who I am. I was true to myself and, despite my wife's fears I was going to get sued, dauntless. I knew we could win this game together. And we did.
I watched this movie for the first time on a flight to visit a utility client who had a cogeneration fire to put out. The flight was delayed so they handed out free headsets. What the hell. I don't follow football, but if they are going to give it to me for free, I'll watch it. Perhaps the reason I don't follow sports is that my alma mater set the all collegiate record for most losses … I never saw them win a single game in the six years I attended to get my BS and MS in Chemical Engineering at Rensselaer. When I landed that night after watching the movie, I realized I had seen the best illustration of how good people perform when they are part of something bigger than themselves and don't let fear cripple them.
Getting to that last scene in the movie was tough for the team. Just like all good movies, there are serious troubles along the way. In fact, a satisfactory result seemed hopeless. The key turning point in the movie is when Hackman pulls the team together after a devastating loss to Dallas. They are in the locker room and Hackman writes the word FEAR on the white board and asks what the players were afraid of. http://www.youtube.com/watch?v=i3O-kYwM8qY
The conversation starts out sidetracked by some silly talk about spiders and bees but then settles in on the word "Quicksand." Shane expresses frustration about things going wrong which then leads to these players admitting that fears in their own lives were limiting their full potential on the field. They were all only one more game away from going back to their "normal" lives. This was their chance and they were afraid of blowing it. Sometimes just admitting we are afraid can go a long way towards losing that fear.
Silly movie? Perhaps not.
I love the way the movie starts where Hackman confronts the old guard of the coaching staff with illustrations how their paradigms based upon the professional players they lost were limiting them seeing the potentials in these replacement players. "They all have something unique to bring to the game. Let's try to put together a winning team. If nothing else, they should be fun to watch!"
I wish we could play the energy game today the same way I saw it played when I entered it 30 years ago. I wish we still had the gall to do something truly outrageous like using a bunch of strippers as cheerleaders to distract the opposing team. We have gotten truly stale and bland. I wish we had people like Danny who, when I told them to get me the ball, would do almost anything to get it. I do share Hackman's concern about him killing someone, but I love the attitude and full on engagement. I wish we had receivers you couldn't overthrow.
I love the scene in the jail after the bar room brawl brought about by their defense of one player being ridiculed. I can only hope the team would stand behind each member with that much of a heart felt attitude. And, I guess I can't get the song by Gloria Gaynor "I Will Survive" out of my head ever since.
This movie just makes me laugh and cry every time I see it. It was brilliant even in its silliness.
So, yes, I believe in the utility industry. Yet, at this time, it is frozen with fear: fear of doing nothing … fear of doing something. It is time to move beyond those fears.
Rarely in life do you get the chance in life to be part of something really big and important. Think it over. This is your second chance. You could be part of something.