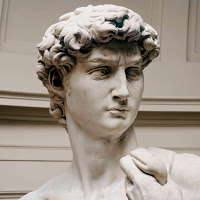 That seems to say it all these days. Why should I work at possibly synthesizing your ideas and mine to reach a deeper understanding and a better solution? It is much easier to nit pick your ideas by trying to find exceptions or inconsistencies.
Our marathon trip across Italy, France, and England exposed us to the way the news is presented in Europe. The media seemed much more civilized. Multiple points of view were expressed and people are allowed to finish their sentences. The moderator never pounced on them. It seems that folks are really interested in big ideas and want to move the intellectual ball down the field toward the goal line.
The profound influence of the Renaissance also really hit me. Two individuals we all know made such great strides in Italy: Michelangelo and De Vinci. For the first time, marble statues seemed have life. The Pieta was breathtaking.
As the "local expert" tour guide showed us the towering statue of David, she commented that the block of marble had been rejected by all the other sculptures of the day since it had obvious "flaws" in it. Michelangelo could see past what others had deemed flaws to believe it would produce a depth of character … essentially looking like the veins of a real person. As you look at it closely, it certainly does.
And, I criticized the statue privately to our tour guide indicating that since David was a Jewish boy he certainly would have been circumcised and the statue was not. She immediately became defensive that I had criticized her national hero.
So, here we are … can we really have a conversation about anything important anymore??
Just sayin …