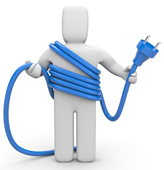 Recent news coverage from around the world certainly points out how good we have it here in this country. Yet, despite that, people are getting less and less tolerant of even the smallest inconveniences. For example, take a look at this recent article on mobile applications in the US by .
Utilities Enter the 21st Century with Mobile Apps
Sarah Battaglia | Aug 05, 2014
Picture this: you're in the kitchen assembling a tasty sandwich. You pull out the turkey, unscrew the mayo jar, and start to slice the tomato. Just as you begin to un-twist the bag of bread, your electricity goes out, leaving you utterly ravenous and perhaps a bit frightened. You should be making your way to check the fuse box, but all you can think is, "Damn you, power companies. I didn't toast my bread!"
We have become an entitled society. We don't want to wait, work, or even earn our rewards. We now expect them in real time and for free. The brief Facebook interruption recently had people calling 911!
Watch how intolerant people around you have become when the Internet is slow. See how long you can go without the electronic feedback in your life. Try to put your phone down and avoid being on your computerized devices for a day … all of them. You probably will feel like you are in withdrawal from a drug like caffeine or something. If you think you are strong, stop watching TV as well. Just sit somewhere without the electronic bombardment. Hard, isn't it!?
All of this reminded me of a comment I heard about 20 years ago from a senior electric utility executive at a national utility conference who pleaded with the audience that we really needed to teach customers to expect less. Otherwise, we were going to get on a steep upward costing slope. Perhaps he was right. We are locked onto that path for sure.
Do we dare to confront this entitled generation or are we going to continue a hands off role? Do we think the next generation is going to get better or that any of these trends will reverse? I am beginning to think we are happy about all this … yet will we be happy when the bill arrives?
Maybe it's time for a bit of tough love on customer satisfaction … to keep future costs in line.