Well, I am not a big sports fan, so who am I to weigh in on this one, but it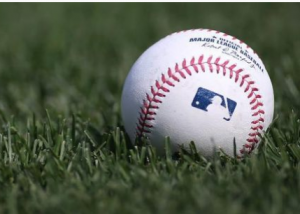 certainly seems the geeks of the world are sitting on their hands.
It appears that the game of baseball has changed but no one wants to investigate why.  Perhaps because the results are that the game of baseball has become more exciting to the fans?  More players are hitting home runs and rookies are scoring like pros.  Could it be that the ball has changed?
It certainly seems so: Watch the video on USA Today.
It is not rocket science to me.  When my daughter was playing softball, she asked me to join her at batting practice.  We went to one of those ball pitching machines and she practiced while I watched.  When she was done, she asked me to try … so what dad wouldn't comply.  She set the ball machine to pretty slow pitches and I hit a few …
Then, for yucks she brought me over to the hard ball cage and let me try that.  I never saw the ball!  I just heard it hit the wall behind me.
Back on track though, it would seem to me that you could do some very quick testing here to know how balls break now vs. before.  This is not rocket science?  I use a ball machine to help my tennis game … hopeless as that may be.
Perhaps the game is afraid to really know because they like what they see in the stands … more fans.
Interesting